Learn your strings and some basic music theory!
This series will have you going from basic open chords to bar chords in no time!
Learn the secret to strumming that will improve your all around guitar playing in a big way!
Scales and Arpeggios should be a part of your practice routine.  Here is how to make that happen!
What fun would learning the guitar be without learning songs!  Check out the Featured Song or Riff!
Learn an easy 12 bar blues in A!
Improvising is a great way to get better at guitar and provides a lot of fun while doing so!
3 Fingerpicking patterns you will be able to impress your friends with 🙂
Now Live Streaming Classes Every Week
Friday October 27th, 2017

10:00 am Vancouver
1:00 pm New York
6:00 pm London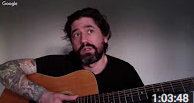 Be sure to register for material to go with live stream by clicking link below.  Come join the fun, become part of the community and learn some cool riffs and songs.....Live 🙂
Whether you are a complete beginner or have played for years and find yourself stuck in a rut!
My name is Teague Purtell and I have been a professional musician for 25 years.  I started this site in 1999 and through the years I have developed a course that is guaranteed to get you playing what you want and more importantly, have lots of fun doing so!
If you have been working through some of my lessons with success and are ready to take your playing to another level then come join me in the members section where you will find a complete guitar method.  Inside you will find:
Play along mp3's
Video lessons
Beat by beat breakdowns
Jam tracks for improvising
Step by step lessons
And much more!