Live Streaming Guitar Lessons with Teague Purtell
Here you will find times and topics for my upcoming live streams!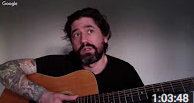 This page is where you will find my schedule of classes and times.  You may want to register for limited access membership (it's free) below to be notified of next live stream and for material to go with each live stream.  Schedule is changing a lot for now as I figure out what seems to work best!
Saturday April 22, 2017

3:00 pm PST Vancouver
6:00 pm EST New York
11:00 pm GST London
Next Live Stream can be viewed here!
You can view the next live stream below however to take part in the chat you will need to be logged into your youtube account!  You may also want to register below to get a limited access membership for free.  You will get an email reminder before the streams and you will have access to any material I have put together to go with the live streams.
Register for limited access membership for Live Stream reminders plus much more!
Many of the live streams I do have material to accompany the live stream and you can get access to that material for free by registering for a limited access membership!  You will get email reminders of live streams plus material to go with lessons and much more!
Simply fill out form below and you will have access in minutes!
Saturday April 22, 2017

3:00 pm PST Vancouver
6:00 pm EST New York
11:00 pm GST London
Strumming

These classes will vary in level from beginner to advanced but will focus on rhythm playing and the skills needed to become a great rhythm player.

Fingerpicking

These classes also vary by level but focus on playing with your fingers.

Technique

These classes focus on technique with a focus on scales and arpeggios.

Songs and Riffs

These classes will just focus on learning one song or one riff.  All levels.